Description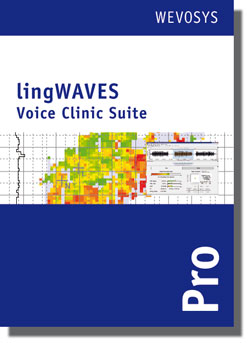 All the components you need to perform professional voice and speech acoustic analysis in a modern voice clinic. includes the highest quality recording, patient management, biofeedback, standard and extended voice analysis, hoarseness and motor speech disorder assessment, professional voice range profile, DSI measurement, time saving standard Voice Assessement Protocol with printed report.
lingWAVES Voice Clinic Suite Pro offers powerful basic and extended components for Speech and Voice assessment and biofeedback. The set includes a high quality voice recorder with extended voice analysis, an easy to manage patient/client database, a professional and up-to-date biofeedback system for voice and speech, a new motor speech disorder assessment and Vocal Load Test – the latest generation of voice quality assessment.
In addition it offers the State of the Art Voice Diagnostic Centre with standardised Vocal Range profile including quality, quantity and endurance measurements pls realtime measurement.
Plus the time saving, easy to use and reliable Standard Voice Protocol.
Recordings are made with standardized hardware, included in the suite.
Voice Recorder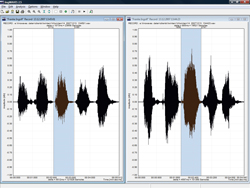 High quality voice recording. Any SLP/SLT/Voice Clinic service relies on documenting information on therapy progress. An excellent way of documenting and archiving patient data is to record part or all of the examination/ therapy session. The main advantage of recording is that it affords the opportunity to diagnose the voice disorder more precisely, to compare the voice quality of the patient at the beginning, during and at the end of the therapy session and to review the evaluation later. lingWAVES Voice Recorder deals with this task in a modern and simple way.
The voice recorder also includes cut, copy, paste and delete functions for recordings.
Client/Patient Manager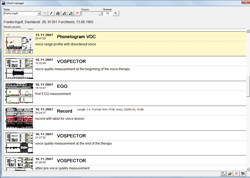 lingWAVES offers two modes of operation for carrying out lingWAVES sessions. You can either work file oriented which would mean that you open analysis files on the menu and save them under an appropriate name of your choice, or you can work client oriented out of the client manager. The difference is that you have to create a client/patient in the client manager before you can carry out test activities connected to this patient. The files will be automatically saved. You do not have to take care of data management. The program will do it for you.
NEW: lingWAVES Video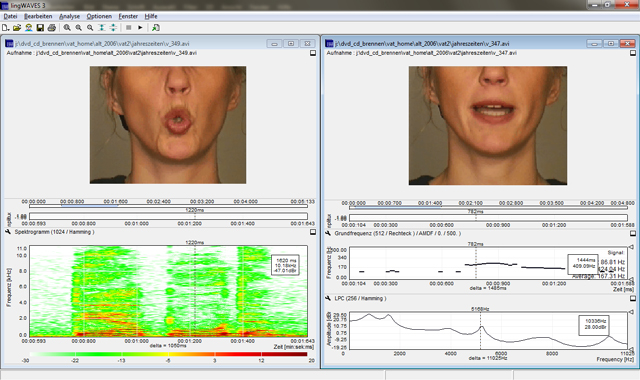 lingWAVES Video combines visual and acoustic analysis of video recordings. The new module enables users to record or import videos in different formats (also from iPad). Additional short and long term voice analysis can be added to any video recording, e.g. a spectrogram or a fundamental frequency (pitch) display. 
 Goettingen Hoarseness Diagram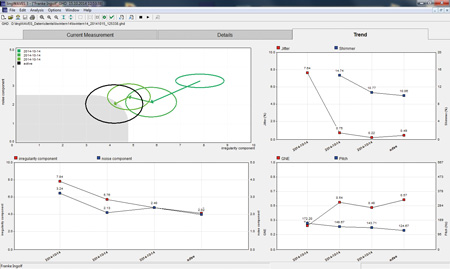 The Goettingen Hoarseness Diagram is a new approach to the acoustic analysis of pathological voices in that it combines several acoustic measures on grounds of theoretical considerations and statistical analyses. Different pathological voice groups can reliable mapped to certain regions in the hoarseness diagram, more reliable than pure jitter, shimmer or CPP analysis. lingWAVES GHD includes a reliable and easy to use client based pre-post voice analysis.
Standard Voice Protocol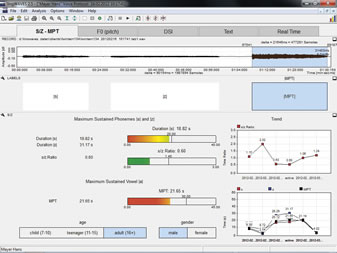 A must – have for every clinic – whether you are a voice specialist or only see an occasional voice or Parkinsons client. Saves time in gathering and analysing data instantaneously and provides a clear instant printed report including progress tracking and outcomes.
Walks you through 4 assessment screens and then provides a supplementary screen (Realtime Pitch and SPL Loudness) for your own assessment tasks and client biofeedback and performance measures for treatment tasks.  View more details
Video Tutorial of Voice Protocol
Norms Used in lingWAVES Voice Protocol
Standard Voice Analysis
This set includes standard acoustical voice analysis like spectrogram, energy and pitch (fundamental frequency). It is easy to add voice analysis to each recorded voice signal. The whole analysis will automatically be saved in a project file. This means that you can reopen the voice record with the same analysis you have done before.
Print out the whole analysis and/or save the analysis as bitmap for further documentation (e.g. in word processing programs).
Extended Voice Analysis

For more scientific analysis this suite comes with extended voice analysis features: spectrography with formant tracking/energy/F0, jitter, shimmer for long term analysis and LPC, AMDF, Cepstrum and Autocorrelation for short term analysis.
You can add multiple voice analysis windows to a signal (e.g. Spectrography, F0, jitter, …)
Voice Disorder Index (VDI)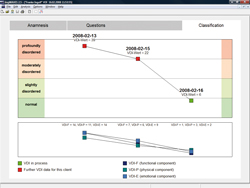 The Voice Disorder Index (VDI) or Stimmstrungsindex (SSI) has been established as a reliable tool for describing voice-dependent quality of life.  This score was developed by Nawka and consists of 12 questions from the VHI. Voice Disorder Index/Voice Handicap Index correlation r=0.98. A useful outcome measure – documents improvements in voice related quality of life over time.
lingWAVES Client manger keeps track of scores and progress over time.
lingWAVES Vospector
Instantaneous and Reliable Voice Analysis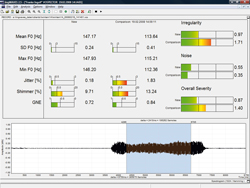 lingWAVES Vospector provides a set of clinically useable quantitative acoustic analyses that reflect important aspects of voice. The lingWAVES Vospector standard measurements are made on sustained vowels, and include minimum, maximum, average and standard deviation for fundamental frequency, jitter (period to period variation in the fundamental frequency), shimmer (period to period variation in the amplitude) and GNE (glottal to noise excitation ratio).
Acoustic Correlates of Perceptual Attributes of Voice according to the RBH/ORB Rating System
Separate measurements add up to yield further voice parameters like irregularity, noise and overall severity of dysphonia that can be regarded as objective counterparts to R (roughness), B (breathiness) and H (hoarseness) components of the RBH/ORB (Cape-V) rating system for the perceptual evaluation of dysphonia.
Biofeedback
lingWAVES Theravox – Voice and Speech
TheraVox is a set of interative activities designed for engaging practice of voice and speech motor skills with visual feedback. It consists of a series of exercises for speech therapy in which voice and speech elements like voicing/voice onset, loudness, articulation/coarticulation and prosody are transformed into real time graphics. The patient receivs visual feedback for qualitative and quantitative attributes of his voice, which is of crucial importance for enhancing self-monitoring skills in speech therapy.
TheraVox can also be purchased separately or in a set with the client manager, recording and Real Time Spectrogram. Click here to view more details and video demonstration.
Real Time Spectrogram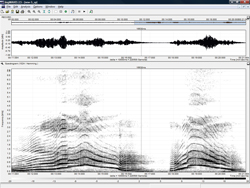 The Real Time Spectrogram provides a dual-screen with time signal display and spectrogram analysis during signal recording. Spectrogram parameters such as wide to narrow-band, color, frequency range and display parameters such as dual or one-screen may be adjusted. In the one-screen mode you can show a full size spectrogram with a time axis adjustable from 5 to x hundred seconds. The recording can partly or full saved as sound file for further analysis. The Real Time Spectrogram session can be saved as project file, showing the same display after reloading.
This real time display is ideal for therapy and clinical biofeedback showing all kinds of sounds and other acoustical parameters of voice and speech. Spectral analysis is especially recommended for use improving accuracy of voice and speech elements in clients with hearing impairments and is ideal for ambitious therapists.
Multi Real Time Display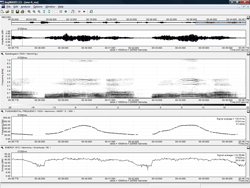 Multi Real Time is an extended Real Time Spectrogram showing additionally fundamental frequency/pitch and energy during signal recording. Multi Real Time shows acoustic parameters such as time signal, spectrogram, pitch and energy during voice and speech production without time delay in real time. In many cases this tool is used to compare vocalization and pronunciation between speech therapist (target) and patient (trial) with the benefit of both graphically and auditory feedback.
Motor Speech Disorder Assessment (MSDA)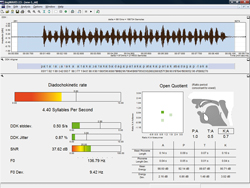 The MSDA module is a new technology tool to analyze and show the voice and speech parameters of motor speech disorders. The new technology analyzes recorded speech within seconds. it enables you to do a quick DDK assessment within seconds and track progress (or progression of disorder) over time.
The result is a concise report of numerical parameters at a glance.
Voice Diagnostic Center – Voice Range Profile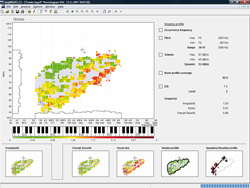 The lingWAVES VDC is a combined analysis tool for the measurement of quantitative (singing/voice range profile) and qualitative voice parameters (vocal ring/singer's formant, hoarseness/overall severity of dysphonia, roughness/irregularity, breathiness/noise). The lingWAVES VDC is a time-saving analysis solution that provides reliable, professional results. Therefore, it is especially suitable to fulfill the requirements of frequent use in everyday practice. The combination of ease of use with integrated analysis is the unique key feature of this product.
The specialised recording technique results in high precision, variable measurement and display of intensity, pitch, roughness, breathiness, overall severity, vocal ring (singer's formant) in real time.
Vospector-DSI-calculation is an integral part of phonetography with lingWAVES VDC. The Dysphonia Severity Index is calculated on the basis of a combination of phonetographic data, maximal phonation time and further voice quality measurements made on a sustained vowel. Objective correlatives of the RBH voice quality ratings complement the DSI value. Clincal study has shown that the DSI scores correlate with the Therapy Outcome Measures (TOMs) by Enderby, P. (1997)
lingWAVES VRP (voice range profile) is based on the UEP (Union of European Phoniatrics) norm. This norm defines a distance of 30 cm / 11 inch between client and Mikrofon and a loudness measurement in db(A). lingWAVES. Only lingWAVES meets this norm with a certified and tested sound level meter – microphone and a standardized recording hardware on any appropriate PC or notebook.
Video Demonstration
Each year the college of education in Salzburg, Austria screens the voices of all students training to become teachers to recognise symptoms and prevent occupational voice problems (the video shows how they use lingWAVES VDC for this procedure.)
o
View the video instructions below (note there is no voiceover – you read the instructions)
Voice Strain Test (Vocal Loading Test)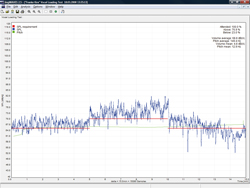 A special test to determine the stamina of the voice for Professional Voice Users. The lingWAVES Voice Strain Test module offers automated real-time data processing during the test run. The test is based on recommendations formulated to standardize procedures in the measurement of vocal load. The test parameters including required level of vocal loading, test duration and voice intensity can be set freely by an examiner. The new version also measures voice quality in real time. When the test is finished, an extensive statistic report provides information on the patient's vocal ability.
Recording with standardized Data Sound Level Meter
Due to technical limitations, a real and precise measurement of sound pressure level (SPL) is not possible with common soundcards or soundcard calibrated systems. They all provide only a relative SPL (dBr) hardly usable for standardization and comparison measurments (e.g. required for UEP norm) in the clinical area.
lingWAVES Voice Clinic Suites use a real SPL sound level meter-microphone with a lingWAVES Connector USB. The recording hardware provides SPL data from 40 – 130 dB, resolution 0.1 dB and an accuracy of +/- 1.5 dB. All measurements are made in dBA. The recording hardware needs NO calibration on a computer. Results are not only comparable on one computer, but also with any other computer using lingWAVES REAL SPL technology.
lingWAVES Connector USB includes a Hi-Fi plug & play sound card for clear voice signal recordings. There is no need to use e.g. poor quality notebook sound cards.
What is included in the different lingWAVES sets?
Download lingWAVES Tutorial Australia 2019 to get you started  plus watch the Voice Protocol Video Tutorial above.
Download installation instructions
View Video of how to set up SPL Microphone
System Requirements
OS: Windows 10
( Mac OS with Boot Camp and installed Windows OS 10)
Hardware: min. Core i5, min. 8 GB RAM (recommended 16 GB RAM, min.16 GB RAM for video modules[strobo/endo/FEES]), 500 GB hard disk space for data 3.0 hard disk possible), speaker, 1 – 2 x USB
Warranty and Support
WEVOSYS provides a 2 year Manufacturer Warranty for all hardware.
WEVOSYS also provides free software updates, email support and remote support for 3 years from purchase.
Multimedia Speech Pathology can also provide basic support and instructions.
Contact us and include your dongle number and Computer Operating System.
Or fill in the request form for support from WEVOSYS
International Remote Support is available here
Research Articles Using lingWAVES