Description
Australian Version Delivered on CD ROM
Please Contact Us if you prefer to download the software and we will send you the Download links and Installation Codes.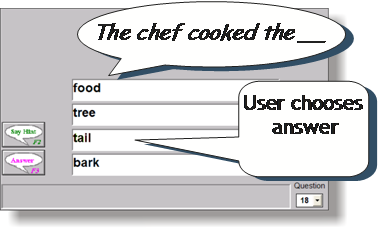 Speech therapy software that improves word-retrieval skills at the word and sentence level. Can be used independently with help from hints and feedback.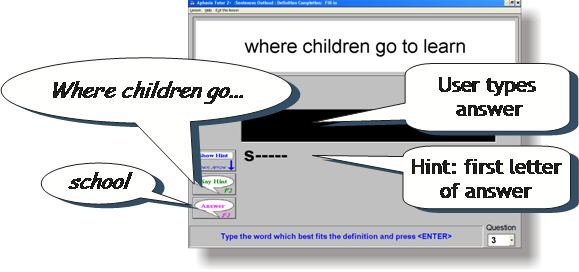 This program has all the features of the standard Aphasia Tutor 2: Sentences, and it also has spoken cues and spoken answers.
Over 700 questions divided into 7 lessons…
1. Phrase Completion: Multiple Choice
2. Phrase Completion: Fill-in
3. Sentence Completion: Multiple Choice
4. Sentence Completion: Fill-in
5. Definition Completion: Multiple Choice
6. Definition Completion: Fill-in
7. Sentence – Picture Matching
Features
Hints – User can click on the Hints button or press the key on the keyboard to receive a hint in the fill-in-the-blank levels.
Clear, multimedia cueing for correct/incorrect answers. Provides motivating feedback on a correct answer.
Challenge without failure. Like physical exercise, in aphasia therapy you want to work up a "mental sweat" but not pull a "mental muscle".
Appropriate for:
Word retrieval
Anomia
Visual scanning
Typing
Written naming
Reading
Aphasia Tutor provides a variety of difficulty levels and never leaves the user confused. If a question is missed, the program allows additional tries and makes the question easier. So, a fill-in-the blank question is asked. User gets some letters wrong. Program shows which were right and gives another chance to answer. User gets it wrong again. Program provides several choices and lets the user try again. If the user still misses the question, the program lets user know what the correct answer was by blinking the correct answer.
Deluxe version features
These features are available in the Deluxe and Pro versions of the program.
Get more therapy with extra difficulty options. Show the first letter of the answer or reduce the number of choices to make the program easier, or give fewer hints to make it harder.
Motivate the patient by showing them how well they're doing with automatic progress tracking which saves the results of each session are saved, to a file. You can print this or copy it into other documentation. Limited to a single patient. For unlimited patients, see Pro version
Make faster progress with repetition practice. Repeat the first 20 questions 5 times, or repeat as many questions as you like as many times as you like. You can also control the length of the lesson without repetition, such as having a 25 exercise lesson.
Do memory training. You can set the program to display the cue to display temporarily or until they press any key. Then the cue disappears, and the question appears.
(If you buy the +Outloud version instead you also get spoken cues and hints for extra help and improving Auditory Comprehension.)
Pro Version Features
Pro version has all the features of the Deluxe (above) plus it:
Tracks progress for each patient. Makes paperwork a breeze! You just open the patient's Bungalow file and paste in their scores (results) from several sessions to demonstrate progress during therapy.
Automatically remembers settings for each patient. So, when Mr. Jones comes back in for his next visit, you just select Mr. Jones and the program remembers how he did last time, what lesson he was using, and what settings you used for him.
Two Computer license
Licensed for 2 PCs at one address (one building) and for multiple patients (users) on each PC. Contact us for discounts on multiple Pro licenses.
Download a free trial
Computer Requirements
Microsoft Windows 10 and below.