Do you need help with downloading and finding downloaded files?
Click on the browser are you using.   Google Chrome    Firefox    Internet Explorer
HOW TO INSTALL THE REACT2 15 DAY TRIAL
Once the React2 v2 trial is downloaded, you can start the installation by double clicking on the file "React2Aus_v2.0.1_ProgramFiles_installer.exe"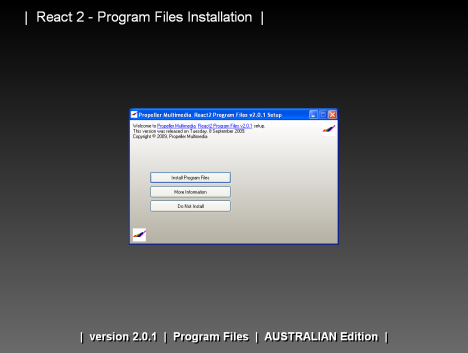 1. The Grey/Black set up screen entitled "React2 Program Files Installation" will be displayed
2. Click on the top button "Install Program Files".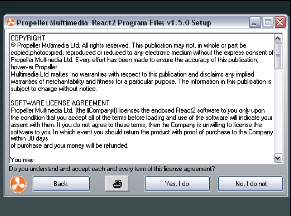 3. You will now see the License Screen, Click "Yes I do" to accept the License Agreement.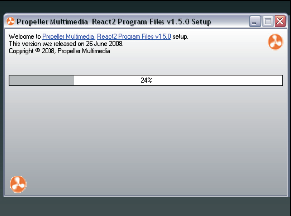 4. React2 Program Files will then install.
5. When installation is complete a thank you screen will appear.
6. Please click "Thanks!"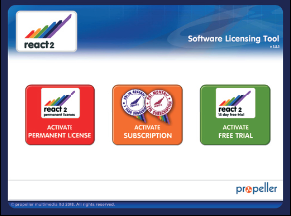 7. To activate your trial license, click on the green "Activate Free Trial" button
8. The Module License installation screen will appear.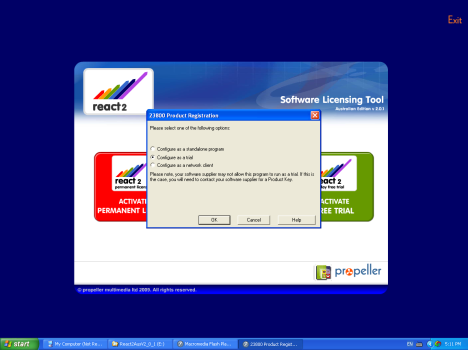 9. Click on "Install Program Files".
10. Now click on "Configure as a trial" on the product registration screen. If your computer is online, the trial will be installed automatically.
Now you can start the program from the icon in the Start menu or on the Desktop. It runs for 2 weeks from the activation date.
Click here to print the downloading and activation instructions.
React2 can now be purchased in economical 3 month and 12 month subscriptions, or on a USB Dongle that can be moved between computers.
Please email us if you need any help.