Visual Feedback for Voice and Speech
TheraVox is a powerful clinical tool that provides visual feedback in real time for a range of voice and articulation exercises. The beautiful graphics are appealing to children, or select the alternative graphics that appeal to adults. It provides visual biofeedback of quantitative and qualitative characteristics of a patient's voice/speech in engaging and motivating activities.
These highly motivating computer-based exercises varying from easy to demanding enable specific and goal-oriented treatment of a patient. Encourages frequent practice of exercises based on improving self-perception of the patient in a fun and less effortful way leading to highly positive effects on the therapy progress.
TheraVox is a very modern and handy program developed by a specialist team.
TheraVox comes as a complete system with software, printed handbook and a tested USB microphone.
Review 1: In summary, TheraVox provides an enhanced visual biofeedback tool from what has previously been available on the market for working with children who have a variety of verbal communication deficits. The creators of this program have obviously gone to great extent to provide motivating animation and reinforcement for the child as well as ease of use for the therapist.
Dave Hammer, Speech-Language Pathologist, Children's Hospital Pittsburg, Pennsylvania, USA
Review 2: TheraVox is a multifunctional software for the therapy of different types of voice/speech disorders with a high motivational potential.
Bianca Henritzi, speech and voice therapist, Germany
Individual therapy approaches
TheraVox contains 6 groups of voice/speech exercises. Within each exercise and each group, respectively, a stepwise application of different difficulty levels allows an individually adapted treatment for each patient, ranging from simple loudness/sound exercises to complex exercises with different sounds, syllables and/or words:
Voice / Unvoiced
Loudness / Sound Presence
Pitch
Articulation / Production of Single Speech Sounds
Voice Onset
Coarticulation: Syllables, Words, Sentences
For children and adults
The exercises are created in differing designs for children and adults. Across all scenes, children play with a dolphin. Alternatively, exercises with neutral graphics are given for adults to avoid the feeling of infantilisation.
Fields of application
The program is designed for application in voice, speech and language therapy including logopedic treatment of disabilities like dyslalia, voice disorders, dysarthria, stuttering, sigmatism/lisping phonological impairments and motor speech defecits (apraxia of speech) in patients with aphasia as well as for contrasting a substitution sound with a target speech sound, drilling for new sounds and Parkinson Treatment. It is also well suited for speech therapy rehabilitation of children and adults with hearing impairments. Available as lingWAVES version for SLP and home version for patient use.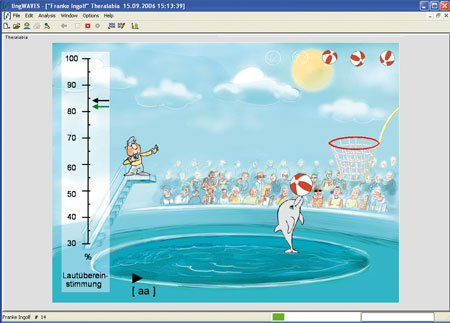 Superb graphic design as well as simple handling are the essential features of lingWAVES TheraVox. TheraVox is a powerful clinical tool that takes advantage of sophisticated time-tested speech technology that guarantees high quality voice and speech therapy.
The set of exercises is designed to suit younger as well as older patients
TheraVox now includes a Real Time Spectrogram
TheraVox includes the lingWAVES main user interface with the Patient Manager and Recorder (operations available: record, playback, save, edit by cutting, copying and pasting, zoom) functions extended with the TheraVox module (voiced/voiceless, loudness/sound presence, pitch, articulation, voice onset, overall 25 exercises), plus the real time spectrography extension. Fully functional for an unlimited period of time, packaged with a USB-microphone and handbook.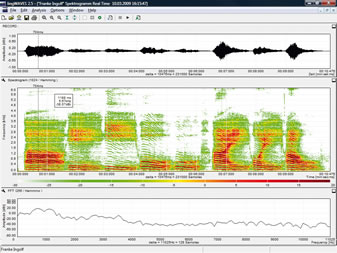 The real time spectrography extension displays the acoustic spectrum of voice in Real Time. Spectral analysis is especially recommended for use improving accuracy of voice and speech elements in clients with hearing impairments and is ideal for therapists skilled in reading and using spectrograms for realtime feedback.
With a sound spectrographic examination, the fine structure of a patient's voice can be analysed. Comparable to the light-breaking function of a prism, the sound signal is divided into its component frequencies. The spectrographic display contains information on characteristic voice features, like e.g. voice performance range, the fundamental frequency (voice pitch), the formant structures of vocalic sounds ([a], [e], [i], [o], [u]) and the proportion of noise in the voice signal. For the analysis display, select a frequency range from 0-20 kHz, which is corresponding to the human voice range.
In a spectrogram, the horizontal axis shows positive time towards the right; the vertical axis represents the frequencies. The colors show the existence of a certain frequency whereas the color tones represent the grade of peak intensity for a given frequency. Characteristic features of a vocalic spectrum are e.g. color bars (frequency ranges with a high intensity), which are also known as "formants". Formants help the ear to recognize different vowel qualities. The picture on the right shows an example of common frequency structures of the vocalic sounds [a], [e], [i], [o], [u].
With the real time spectrograph, a speech recording can be displayed as a spectrogram in real time. Thus, it provides a good "biological feedback" of the voice. Voice changes during the course of a therapy session are made visible. Therefore, the real time spectrograph can be a great support for the therapy and treatment of your patients. There is a wonderful lecture by Prof Jurgen Handke from the Virtual Linguistics Campus showing how to interpret information from a Spectrogram here 
Includes LingWAVES Theravox Set, base, recorder, patient manager, Voice Disorder Index, Theravox biofeedback exercises (for loudness, pitch, voicing, voiced/voiceless contrast, voice onset and articulation and coarticulation) plus real time spectrography, handbook and USB Condender microphone.
Recording with Samson Go Mic Portable USB Condenser Mic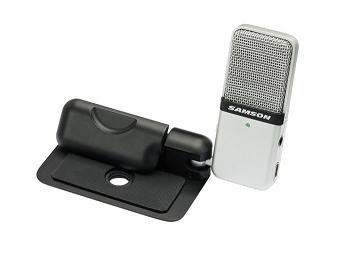 Video demonstration – how to set up the Microphone
• Portable USB condenser microphone
• Plug and play, Mac and PC compatible, no drivers required
• Custom compact design that clips to a laptop or sits on a desk
• Frequency response of 20Hz-18 kHz and a resolution of 16bit/44.1 kHz
• Transducer type: condenser, pressure gradient with USB digital output
Get started with the TheraVox Tutorial
Download TheraVox Installation Instructions
This module is part of the following lingWAVES suites:
What is included in the different lingWAVES sets?
System Requirements
OS: Windows 10
( Mac OS with Boot Camp and installed Windows OS 10)
Hardware: min. Core i5, min. 8 GB RAM (recommended 16 GB RAM, min.16 GB RAM for video modules , 500 GB hard disk space for data ), speaker, 1 – 2 x USB
Warranty and Support
WEVOSYS provides a 2 year Manufacturer Warranty for all hardware.
WEVOSYS also provides free software updates, email support and remote support for 3 years from purchase.
Multimedia Speech Pathology can also provide basic support and instructions.
Contact us and include your dongle number and Computer Operating System.
Or fill in the request form for support from WEVOSYS