Description
We are pleased to announce that the price of SentenceShaper has been reduced to Australian $26.00, to make it available for more people to use.
It has also been greatly improved to make it easier and more intuitive to use and to allow users to easily create and email their own video messages.
SentenceShaper® is an innovative research-based computer program that helps people with language problems to create speech in their own voices. You record words or short phrases, play them back, and arrange them into sentences and longer messages. You can replay, revise, and expand your recordings at every level (pronunciation, grammar, meaning). The result is often far better than spontaneous speech.
Sentence Shaper Pro with Editing is a very versatile program.  You can use it as a communication aid, a therapy tool, or both.
The version sold here is for Windows computers and is licenced to use on 2 computers.
Here is a video example of one way it can be used.
Kindly provided by Lou Hyatt who is a stroke survivor who has nonfluent aphasia and apraxia and by The Snyder Center for Aphasia Life Enhancement (SCALE), in Baltimore.
More details and video examples are available on this page.
Research Based Aphasia Treatment Tool
Research studies have demonstrated that SentenceShaper can help people with aphasia to create better speech, and that this effect may carry over into spontaneous speech.
Thus the program can be used as a communication aid, a therapy tool, or both. Both these functions are supported by a host of additional program features.
Workbooks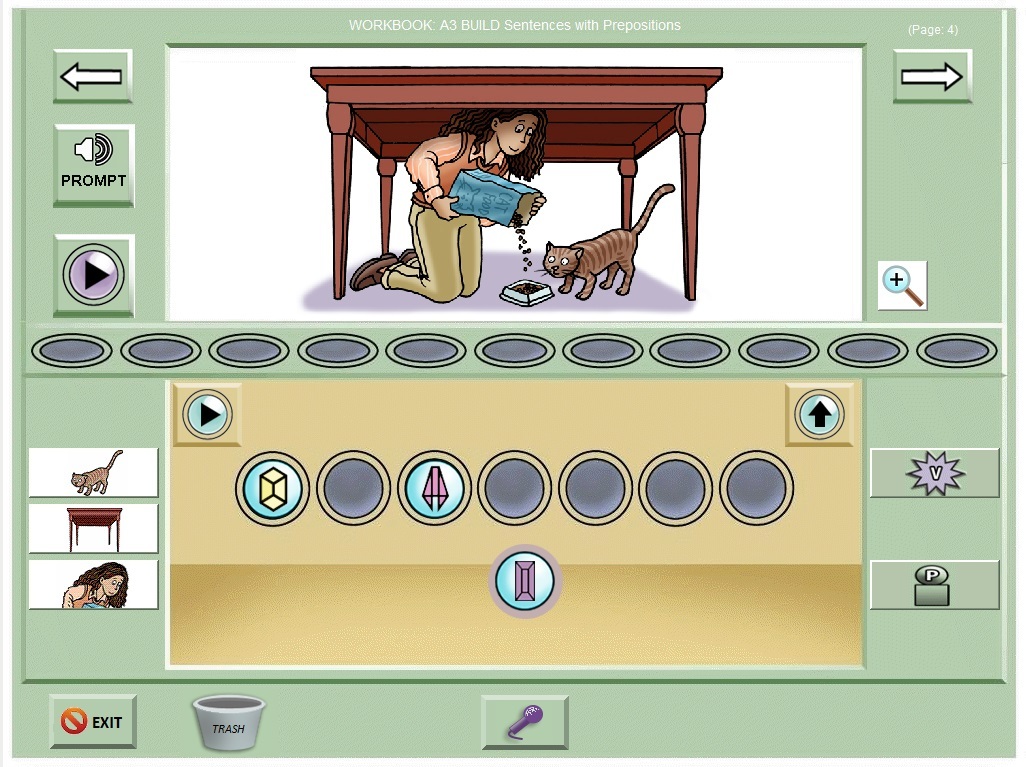 SentenceShaper includes built-in workbooks to make your speech practice more interesting and effective. Workbooks can zero in on particular linguistic structures or help you create speech about your life. A SentenceShaper workbook is a series of screens, or "pages", each with its own picture, spoken prompt, and word-finding support. When you run a workbook, you create speech on each page.
Create customized materials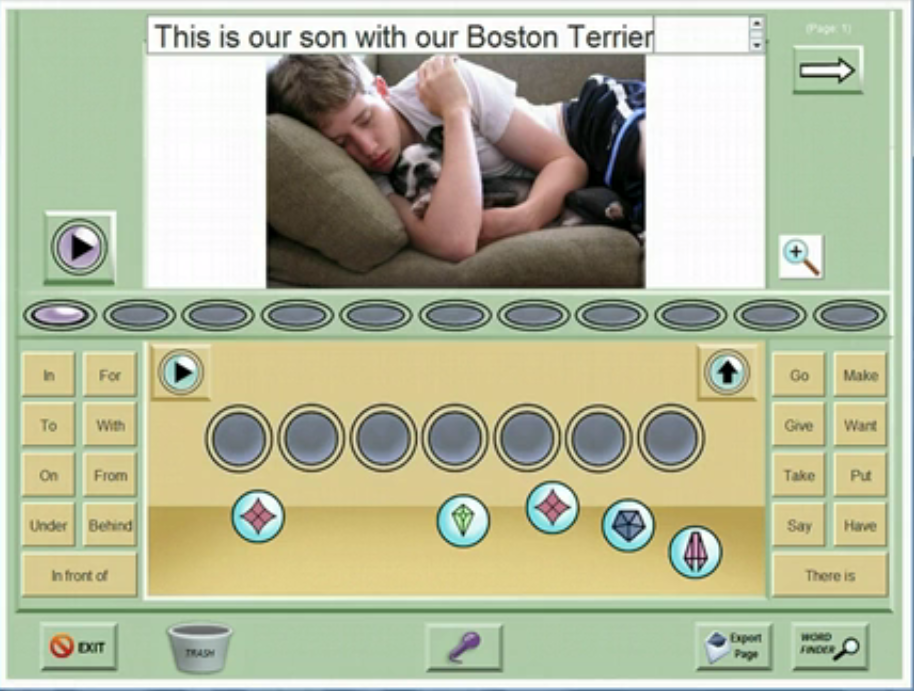 The Pro with Editing version includes creativity tools to let you import pictures, customize the word-finding support, and create or edit workbooks.
Sharing your speech files
Although SentenceShaper runs on Windows (click here for system requirements), the spoken messages you create with the program can be played on almost any computer or mobile device. The new Export feature lets you share your speech by emailing it, or turning it into a video that you can post on the Internet or play on your iPod or iPad.
Easy Tutorials
Get started quickly by using the step by step interactive tutorials provided within the program, or you can download the free trial from this link and learn quickly using the built in interactive Tutorials.
How does it work?
There's a lot of evidence that people with aphasia still know their language. Unfortunately, however, their language processing is slowed down – it takes them longer to think of words, and words vanish from memory before they can be combined into sentences.
SentenceShaper can help you tap into these hidden language abilities. How? By letting you hold words and phrases in memory long enough to combine them into sentences. Once you record a word, you will not have to keep it in memory — just click its icon and it will be played back.
Also, when speaking is effortful, it's hard to do what is called "self-monitoring"–that is, to listen to what you are actually saying. SentenceShaper lets you play back you speech at all levels: single words, sentences, and messages. This can help you to correct errors, and may also help you to think of ways to expand or improve your utterance.
Start Small, then Build …
You start by recording a word or short phrase, using the program's built-in sound recorder. This recording gets linked to a small crystal icon. Whenever you click the crystal icon, it plays back that recording. This combination of a recording and a crystal icon is called a "Snippet".
Snippets are like building blocks. SentenceShaper helps youto combine them into sentences and messages.
You combine these speech fragments into full sentences by dragging them to a different area of the screen, the Sentence Row, where you can re-order them, add to them, etc., replaying your sentence at every step. Record new words or phrases to add to your sentence in progress. Finally, add the sentence to a third area of the screen called the Story Row, where you combine it with other sentences to create speeches, stories, or other messages.
Word-finding Support
The program has two word-finding tools: the Cue Buttons along the side of the screen, and the WordFinder, a separate screen containing words that can be searched by category.
The Vocabulary Cue Buttons are the buttons along the right and left sides of the Main Screen in most workbook pages. Each Vocabulary Cue Button displays text or sometimes a small picture; clicking on the button plays the word or phrase aloud. To actually use the word in a sentence, you play the button, then repeat the word in your own voice; this recording is added to your other snippets.
Some workbook pages have Vocabulary Cue Buttons designed to provide words for the specific picture on the screen. The default set of Cue Buttons has some very general verbs, prepositions, and pronouns.
A more extensive word-finding tool is the WordFinder. This is a screen where you can look for words on the basis of categories ("People and Animals", "Food", etc), then record them in your own voice and add them to your sentence as a snippet.
In the Pro+Editing version of SentenceShaper, you can customize both these word-finding tools by adding new words or choosing different words to display.
Adding text
SentenceShaper is designed for use by people who may no longer be able to read or type in text. However, the program now has an area on the main screen where you can type in text. This opens up many interesting possibilities…
SentenceShaper can be run simultaneously with third-party programs such as WordQ, which can read the text in this area aloud, and suggest words or phrases as they are typed into SentenceShaper.
You can create "subtitles" that may help listeners understand the speech of someone with apraxia or other intelligibility issues. This may be especially helpful if the user is creating a video, since text titles can be included in the exported video.
If the user is trying to memorize sentences or phrases, as in a workbook used for language therapy or in script training, it may be helpful to see the text of the target sentence displayed.
Text captions may also help people work on their reading. For example, you can create a recorded sentence with SentenceShaper's support, and then transcribe it into the text area. With the help of a third party program like WordQ, you can "check your answer" by playing the recording and comparing it with the text.
Finally, you can even run SentenceShaper 2 in conjunction with voice recognition software such as SpeakQ or Dragon Naturally Speaking. There is some preliminary evidence (Dahl, Linebarger, & Berndt, 2008) that recordings created on SentenceShaper can be recognized much more accurately than spontaneous speech. But another, and perhaps simpler, way to build on SentenceShaper's support for speech was suggested by Traci Kurkowski, DHSc, MS, CCC-SLP: create a spoken utterance on SentenceShaper, replay it as needed for practice, and then turn on the speech recognizer and repeat the practiced utterance. The recognizer's text will now appear in SentenceShaper's text area.
Any text that you create within SentenceShaper can be saved. Just export the page or workbook, and the program will automatically create a document containing all the text in the exported workbook or page.
More information for Professionals on how to use Sentence Shaper Pro at the Sentence Shaper Website