Trial CDs can be sent free of charge to Australia and New Zealand.
Try our programs at home to see which ones help the most.
Just Contact Us and request the free trial CDs.
Don't forget to include your name and mailing address and why you want the CDs.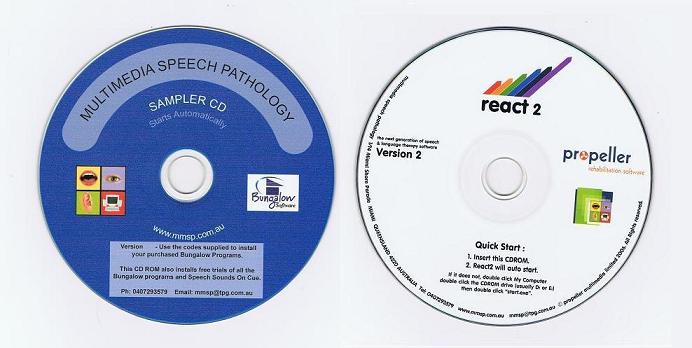 We will send 2 Sampler Cds. You can install the trials and then loan to your friends or clients so that they can also install them.
Speech Sounds on Cue is on the blue CD and plays only the W sound in the demo version. This program has been upgraded to include recording and replay of your speech and randomisation of exercises. The Pro version lets you print scoresheets and worksheets.
The other programs on the blue Sampler cd are from Bungalow Software and give you about 5 uses for free. The Bungalow Outloud programs have all been upgraded to Australian voice.
React2 on the other CD ROM runs for 2 weeks.